Light Sources
Light sources, the best supportive equipment for Borescope and Fiberscope, proudly recommended by SEKSAN ENGINEERING that ensure the quality. Light source is helpful for working with these external units, they provide illumination which is transmitted to the viewing instrument by a light guide cable.

UHP High Intensity Light Source ILP-2
Bright and compact
The ILP-2 light source has been specifically designed for large void inspections. Incorporating the latest UHP lamp technology it is now the brightest, most powerful light source ever produced by Olympus.
Note: Not available for the Small diameter borescopes. In use with the other rigid borescopes, connectable light guides differ depending on the rigid borescope models. Please ask our sales representatives for details.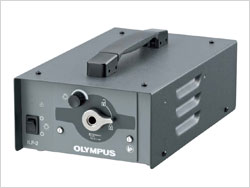 | | |
| --- | --- |
| | ILP-2 |
| Voltage | 100–240 V AC, 10–15 V DC |
| Power consumption | 100 W |
| Dimensions | 166 mm × 109 mm × 261 mm (6.5 in. × 4.3 in. × 10.3 in.) |
| Weight | 2.9 kg (6.4 lb) |
LED Light Source LG-LSLED-RVI
Featuring a long-life white LED, the LG-LSED-RVI light source is approx.100 times brighter than the ILK-7 halogen light source yet consumes about half the power. This low consumption model meets most industrial needs.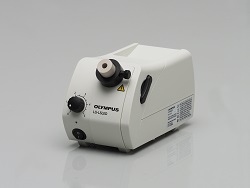 LG-LSLED-RVI
Voltage
INPUT: AC 100-240V, 50/60Hz
OUTPUT: DC24V (with supplied AC adapter)
Power consumption
37W
Dimensions (W x H x D)
114 x 137 x 231 mm
Weight
2.45 kg
LED life time
Approx. 60,000 hours
LED Light Source ILD-2
Directly competing with the high power halogen units in terms of brightness, but only using a fraction of the power - this light source provides a freedom of portability that only LED technology can offer. Coupled with the comprehensive range of scope adaptors available, this lightsource is the most versatile we have ever offered.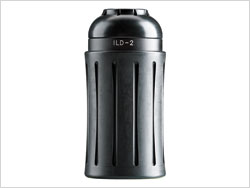 | | |
| --- | --- |
| | ILD-2 |
| Power Supply | ILD-C or Accessory Desktop PSU |
| Dimensions | 81 mm (3.2 in.) long × 38 mm (1.5 in.) diameter |
| Weight | 108 g (0.23 lb) |
| Operation time | 2.5 hours at full brightness from the ILD-C |
LED Light Source ILD-3
InHelp can display recorded images based on the section of your inspection or defect level on a PC. InHelp also enables you to instantly review images with diagnoses information. Furthermore, comments, annotations, and stereo measurements of recorded images are also available.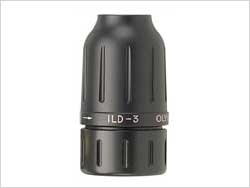 ILD-3
Power Supply
3VDC single use batteries
ILD-C
Dimensions
55 mm (2.2 in.) long × 30 mm (1.2 in.) diameter
Weight
65 g (0.14 lb) without CR123 battery
Operation time
1.5 hours per interchangeable battery or
8 hours at full brightness from the ILD-C
ILD-C
The ILD-C runs the ILD-2 or ILD-3 at their peak current, ensuring their brightest and safest performance, with no drop off over time. It also offers brightness control and prolonged run time from its rechargeable internal battery, negating the need for external power and providing a completely portable light source. The provided desktop power supply will charge the ILD-C at the same time as running the attached ILD-2 or ILD-3, offering continuous use.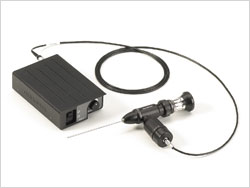 | | |
| --- | --- |
| | ILD-C |
| Power Supply | 9 to 19 VDC |
| Power consumption | 38 W Max when charging |
| Dimensions | 130mm x 90mm x 38mm |
| Weight | 650 g |
Connecting Scope Adaptors for ILD-2 and ILD-3
A range of adaptors to connect the compact light sources to our various rigid borescopes and fiberscopes.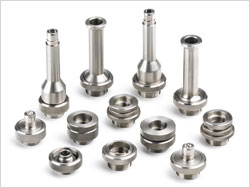 Light Source
ILD-2
ILD-3
Adapted Scopes via Connecting Scope Adaptors
Standard Rigid Borescopes
Swing-Prism Borescopes
Zoom Swing-Prism Borescopes
Small Diameter Borescopes
Fiberscopes with Olympus Light Guides
Engine Borescopes

Note: Adaptors connecting ILD-2 to rigid borescopes from other companies are also available.

Note: MK Modular Mini-scopes are directly connectable to ILD-3.
Belt Clip and ILD-2 Holster
Available as accessories converting the ILD-C and ILD-2 into a portable light source system for our rigid borescopes and fiberscopes.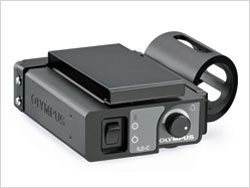 Halogen Light Source ILK-7/ 7A/ 7B
The ILK-7 range of light sources incorporates a 150W tungsten-halogen lamp offering features necessary to meet most industrial needs.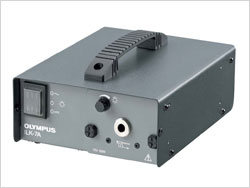 ILK-7
ILK-7A
ILK-7B
Voltage
100-120 V 50-60 Hz,
115 V 400 Hz
100-240 V 50-60 Hz,
115 V 400 Hz,
11-15V DC
100-240 V 50-60 Hz,
115 V 400 Hz
Power consumption
280 W
250 W
Dimensions
178 mm × 76 mm × 230 mm (7 in. × 3 in. × 9 in.)
Weight
2.3 kg (5 lb)
UV Light Source (Recommended models are available from our sales representatives)
Powerful UV output makes it ideal for fluorescent testing. A common non-destructive testing (NDT) technique for crack detection uses dye-penetrate. In this method, dye remains in the cracks after cleaning, which is then observed when it fluoresces under ultra-violet light.